Report: Ethan Jaiswal
The MK Breakers put on a scintillating display of basketball at their last home game of the NBL 3 East regular season. The Breakers hosted the Northampton Mavericks and took control of what would turn out to be a fiery game from the opening tip-off, ending the game with a staggering 132-58 victory. The win brings the Breakers' league record up to 17-0, and with the team firing on all cylinders just weeks away from the playoffs – a deep run into the playoffs is undoubtedly on the cards. (Ticket information for playoffs coming soon)
The Breakers started the game on the front foot, scoring a staggering 31 points in the opening quarter. Mike New Jr. would score 10 of those points, with the Mavericks defenders unable to control his automatic jump shot early on. The visitors struggled to keep up with the Breakers' intensity, fired up from the sell-out crowd, and found themselves trailing by 21 points at the end of the first quarter.
The second quarter saw the Breakers continue to dominate, putting on their most dominant display of any period in the game: posting 37 points to the Mavericks 10. Jordan Spencer, once again, would put on a clinic: showcasing his abilities as an elite playmaker. The captain would finish the game with an absurd +55 +/- off the back of a 29 point, 14 assist, 11 rebound triple-double that caps off a spectacular regular season for Breakers' #23. 68-25 at the half.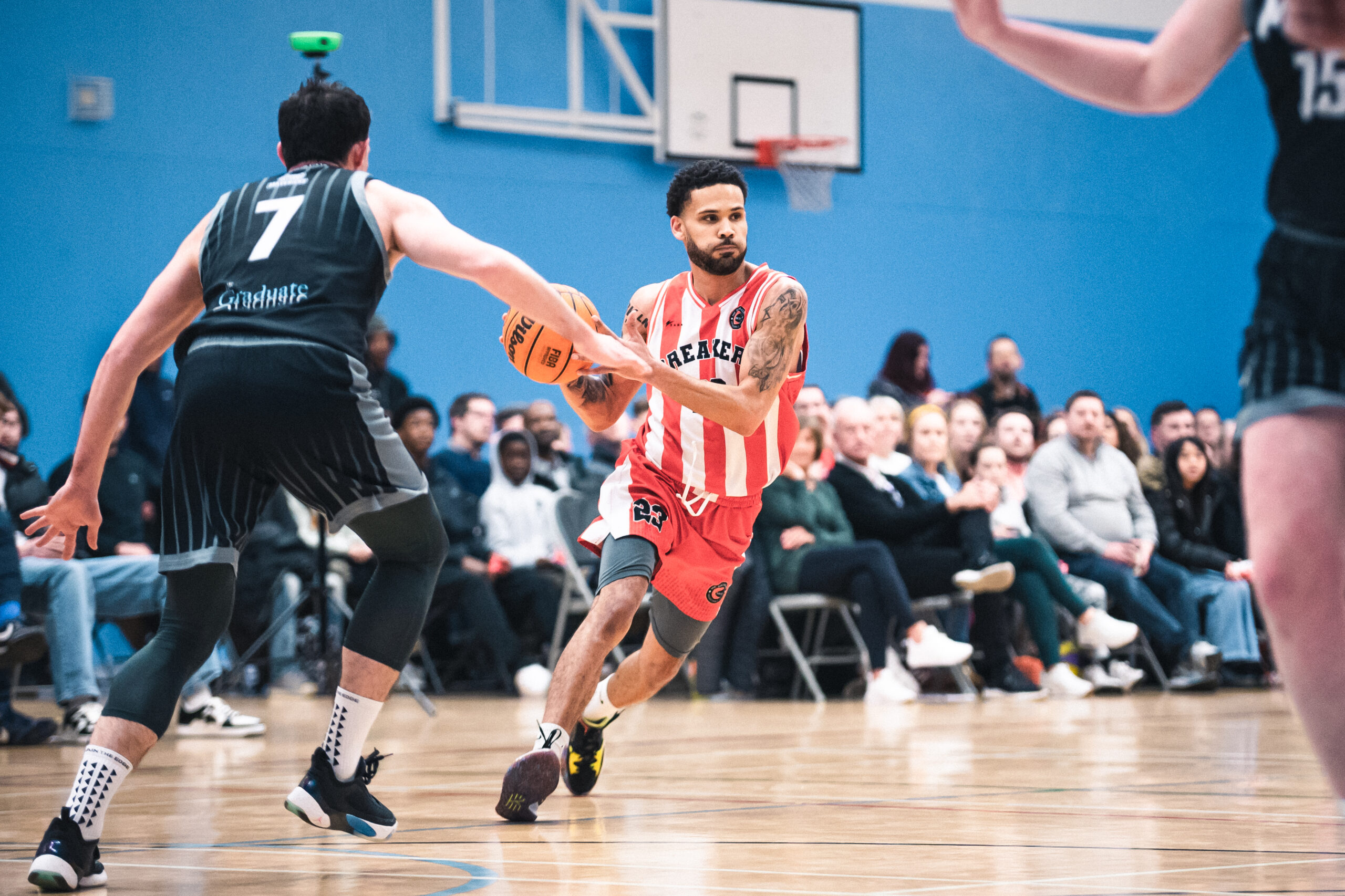 The third quarter saw Blayne Freckleton come alive, hitting four straight 3-pointers, showcasing his unrivaled shooting ability that he became known for during his time in NBL 1, Freckleton would finish on a jaw-dropping 8 total threes on the evening. Jordan Spencer would achieve the play of the game in this period, dribbling past five Mavericks players over the length of the court to score a lay-up in transition, a play that thrilled the raucous home crowd, increasing the Breakers' lead to 45 points.
The fourth quarter saw coach Billy Beddow look to his bench to close the game out, giving the young contingent valuable minutes as well as resting their key players ahead of the post-season. Eric Arriaga in particular displayed his shot-making talent making three 3-Pointers over the course of the game. The Breakers continued to score at will, breaking their opponents' spirit and putting on a true show for the home fans.
The sell-out crowd at Bletchley Leisure Centre, while accustomed to such dominant displays, was as loud as ever while the team put on a dominant display of skill and teamwork. The victory puts the league-winning Breakers in a great position as they head into the playoffs, and they will be hoping to continue their unbeaten run and lift the NBL 3 East Play-off trophy at the end of the season. Tickets to playoff games will be available to purchase soon, stay tuned to the Breakers' social media channels to ensure you don't miss out.